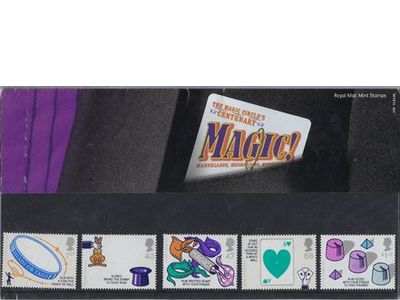 The Magic Circle Centenary Celebratiom Stamp Set
 (2005)
In Collection


#3010
10*
Conjuring
Autograph, Ephemera
Memorbilia, Ephemera 
Mint - The Magic Circle Centenary Celebratiom Stamp Set

Royal Mail celebrates the Centenary of the Magic Circle with a set of 5 novelty stamps and a Smilers Sheet
Centenary of the Magic Circle - 15 March 2005

set of 5 stamps commemorating the Magic Circle Centenary

The stamp designs show:

1st class - 'Heads or Tails'. The design shows a coin, and the blank centre can be scratched away to reveal either the head or reverse side. [Arguably collectors may want three versions in their collections, 'heads', 'tails', and hidden.]

40p - 'Rabbit and hat'. This is an optical illusion.

47p - 'Knotted scarf trick'. Thermographic ink on the spotted scarf will reveal a different scarf when warmed.

69p - 'Card trick'. Another optical illusion.

£1.12 - 'Three-cup trick'. A variation on the three-cup trick using a pyramid under one of 3 fezzes. Thermographic ink reveals which fez the pyramid
is under.

STAMP SET
Product information
Technical Details
Brand name Royal Mail
Model Number 370
Item Weight 40.8 g
Package Dimensions 22.2 x 14.2 x 1 cm
Colour Blue

Manufacturer Part Number PP340 (printed no. 370)
2005 Centenary of the Magic Circle Presentation Pack No. 370 - Royal Mail Stamps
by Royal Mail

2005 Centenary of the Magic Circle Presentation Pack. British Presentation Packs catalogue number PP340 (printed no. 370)
Issued by the Royal Mail on 15th March 2005

This beautiful pack was issued to celebrate the centenary of the Magic Circle. Today's magicians can trace the tricks of their trade back to the start of the last century. It was in 1905 that 23 magicians came together at Pinoli's Restaurant in London to form the Magic Circle.
To celebrate this centenary, Royal Mail has issued five 'magical' stamps which have all been designed to give you a trick before you lick. Scatch a coin over a stamp to show heads or tails, use the heat from your finger to reveal all, or test yourself with a few optical illusions. These stamps were designed by Tatham Design.

Read It
No
Location
Magic Library (Home)
Condition
Mint
Owner
Bryan-Keith Taylor