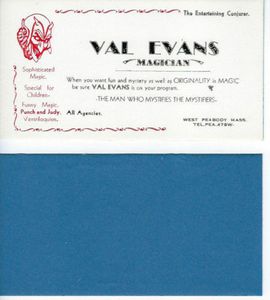 Val Evans Blotter -Magic ,Punch & Judy, Ventriloqusim - circa 1940s/50s
In Collection


#3013
10*
Conjuring
Ephemera, Memorbilia
Memorbilia, Ephemera 
Val Evans Blotter -Magic ,Punch & Judy, Ventriloqusim - circa 1940s/50s

Val Evans Blotter, featuring Magic, Punch & Judy, and Ventriloqusim, with ad cut of the head of a devil. Has never been used.

DATE: Circa 1940s/50s
SIZE: 3 3/8 by 6 1/4 inches.
COND: All in otherwise very Fine, almost Mint condition.

Read It
No
Location
Magic Library (Home)
Condition
Mint
Owner
Bryan-Keith Taylor
From Magicpedia, courtesy of Genii Magazine:
Val Evans (1896-1981), born Valentine Bagley Evans, created many effects including "An Invitation to Lunch"], a version of Rising Cards and the "Stop Trick" (which is sold by Vikings/Collector's Workshop). Evans, a veteran of World War I, was a barker before he was stricken with agoraphobia and would not leave home to go outside, which ended his performing career. He was a member of IBM Ring 122 in Boston and was the last surviving charter member of SAM Assembly 9.