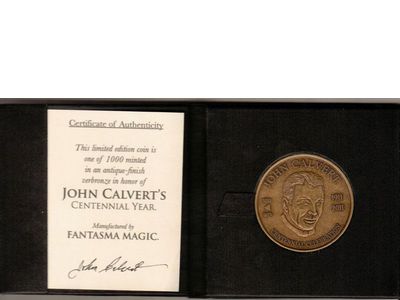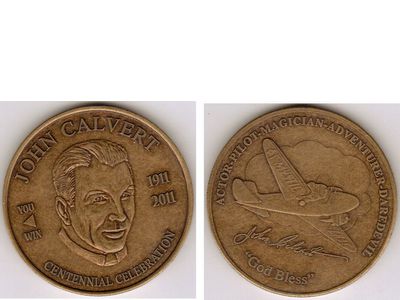 JOHN CALVERT (Commemorative) -- MT053.100 - (Bronze)
 (2011)
In Collection


#124
10*
Conjuring
Magic coin / token
Token / Coin 
USA 
JOHN CALVERT (Commemorative) -- MT053.100

LOCATION: USA
DATE: 2011
OBV: Bust facing right in center, around is "JOHN CALVERT / CENTENNIAL CELEBRATION" left is "YOU WIN, right is "1911-2011"
REV: Plane in center with John Calvert signature below, around is ACTOR-PILOT-MAGICIAN-ADVENTURE-DAREDEVIL / "God Bless"
COMPOSITION: Bronze (1000), Silver (100 minted), Golden color (50 minted)


A beautiful bronze commemorative coin of John Calvert celebrating his 100th birthday. Made exclusivley for the Magic on Manhattan convention, Only 1,000 made. Comes with a special Z fold wallet that does an amazing trick!

Read It
Yes
Location
Magic Library (Home)
Condition
Mint
Owner
Bryan-Keith Taylor
John Calvert (magician)

Born August 5, 1911 (1911-08-05) (age 97)
New Trenton, Indiana, United States
Occupation Magician

Madren Elbern "John" Calvert (born on August 5, 1911) is an American magician.
The son of Elbern F. and Naomie P. Calvert, Madren Elbern Calvert was born in New Trenton, Indiana.
In the course of his career, John Calvert has appeared in films as well as in stage performances around the world. As of April, 2009, Calvert is still performing and lecturing.

Calvert is scheduled to give a magic performance at the London Palladium on his 100th birthday, August 5, 2011.

Calvert currently resides in Bowling Green, Kentucky with his wife Tammy

The following has been printed in the June 2009 issue of The Linking Ring:

John Calvert had a mild stroke on Tuesday, April 28, at the home of Ray and Ann Goulet. He received immediate treatment and has amazed doctors with his positive attitude and quick recovery. He is currently in rehab and expects to be back to normal very soon. Mr. Calvert's wife, Tammy, reported that he kept the hospital's medical staff entertained and while talking to his doctor did a watch steal on the attending nurse! If you would like to send greeting cards to the Calvers, write to them in care of Ray and Ann Goulet, 118 Marshall Street, Watertown, MA