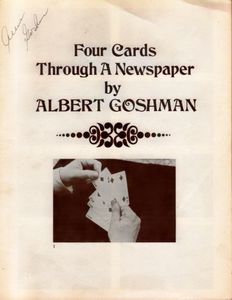 4 Cards through Newspaper
Al Goshman (1960)
In Collection


#3101
10*
Conjuring
Magic instruction Sheet
Pamphlet 
USA 
eng
* Magician Al Goshman 4 Cards thru Newspaper Signed MINT *

An instruction sheet put out by Al Goshman, from the 1960s. Front cover has title:

Four Cards Through a Newspaper
by
ALBERT GOSHMAN

It is signed in the upper left corner: Albert Goshman
SIZE: 8 1/2 by 11 inches.
CONDITION: MINT Condition.

Extras
Autographed
No. of Pages
3

Read It
No
Location
Magic Library (Home)
Condition
Mint
Owner
Bryan-Keith Taylor
Albert Goshman

Albert Goshman (1921? - February 9, 1991) was a bagel baker from Brooklyn, who became one of the greatest close-up magicians of all time. Early in his professional magic career he billed himself as "The Baker That's a Faker".

During War World II, while working in a defense plant, he discovered a small book of coin and pocket tricks and began to study. Following the war, he became a regular visitor at the New York's magic shops. He favored coin magic and began calling himself Fakir, the Baker.

He relocated to the west coast in the early 1960s and beginning in 1963 was a regular performer at the Magic Castle. He became known for his routine involving coins and salt shakers.

Goshman also developed a number of foam rubber products including sponge balls. As demand grew, he expanded in to larger quarters and finally purchased a building to house his manufacturing enterprise.

Awards
•Academy of Magical Arts first winner of the best Close-up Magician Award (1968) and won again in 1975.
•Academy of Magical Arts Magician of the Year in 1971 and Best Lecturer.
Publications
•Albert Goshman Presents Coins thru the Table (Manuscript) (1974)
•Albert Goshman Presents Card in the Purse (Manuscript) (1974)
•Magic by Gosh by Patrick Page (1985)