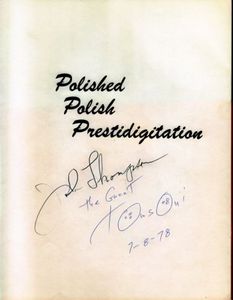 Polished Polish Prestiditator
Thompson, Johnny (1978)
In Collection


#3107
10*
Conjuring
Lecture Notes
Pamphlet 
USA 
eng
*Magician John Thompson Polished Polish Lect.Notes Autographed MINT*

Front cover has text: Polished Polish Prestidigitation. It is signed below title:

John Thompson
The Great
Tomosoni
7-8-78

Seventeen pages with written notes on a variety of magic, all with the Thompson special touch.
Doves, Benson Bowl, Cards, Malini's Chink a Chink,etc.
SIZE: 8 by 11 inches, loose pages in red plastic clear holder.
CONDITION: MINT Condition.

Extras
Author autograph
No. of Pages
16

Read It
No
Location
Magic Library (Home)
Condition
Mint
Owner
Bryan-Keith Taylor
Johnny Thompson

Johnny Thompson is a Las Vegas illusionist who performs under the stage name "The Great Tomsoni." Along with his wife Pamela Hayes, he performs a comic magical act in which he plays the role of a dapper but buffoonish vaudeville gentleman. One of his trademarks is producing pure white doves on stage, which are trained to play along with the act once they have appeared.

He's widely known as a mentor and teacher of magic, and has worked behind the scenes to develop tricks with Penn and Teller, Lance Burton, and Criss Angel, among others.

He has been featured on many episodes of Criss Angel's Mindfreak, the "Hair" episode of Penn and Teller's Bullshit!, and the film The Aristocrats.

He is also a bass harmonica player.




John Thompson

Actor Magician Musician
A.E.A. - S.A.G. - A.F.T.R.A. - A.F.M.

Height: 6' Jacket size: 42 Long
Weight: 185 lbs. Waist size: 36
Eyes: Blue Hat size: 7 1/8
Hair: Brown Shoe size: 10 1/2 D




FILM:
"SERIAL" - Paramount - "Store Manager"
Director: Bill Persky

"LUNCH WAGON" - Mark Borde Prod. - "Jake"
Director: Ernest Pintoff
A VERY HARMONIOUS TIME was had by all at Crippled Children's hospital Saturday during a visit by the three Harmonicats, pictured with two of the youngsters they entertained. Flanking James Pollard, 8, are John Thompson (left) and Al Fiore. Hodling Deborah Perry, 2 1/2, is Jerry Murad. The Harmonicats are currently performing at the Swan Room of the Monteleone hotel.
The Times, March 24, 1957
TV PILOTS: "K-NITE COLOR RADIO - ABC - "The Great Tomsoni"
"KLUB MADNESS" - Bob Banner & Assoc. - "Vince Scarponi"
"SUPER TOMATOES" - Marcia Wallace Pilot - "Butcher"
TV EPISODIC: ONE DAY AT A TIME BEYOND WESTWORLD
HART TO HART HERE'S BOOMER
FANTASY ISLAND TABATHA
FLYING HIGH (recurring role)

COMMERCIALS:
LIBBY TOMATO JUICE - "The Magic Man" (spokesman)
MOVIELAND WAX MUSIEM - "Stars Hall of Fame"
TV MAGIC CARDS - TV MAGIC KITS - TV MYSTERY CARDS
STROHS BEER
CHICAGO DAILY NEWS
ONE-A-DAY VITAMINS
CHEVROLET'S "Engine Engineering'
RED BALL JETS
FORD MAVERICK (Canadian Market)
OLDSMOBILE "88"
STAGE: "BEGINNER'S LUCK" "WHO WAS THAT LADY?"
"ANYTHING GOES" "THE LEWIS & CHRISTIE SHOW"
"THE SHOW UPSTAIRS"