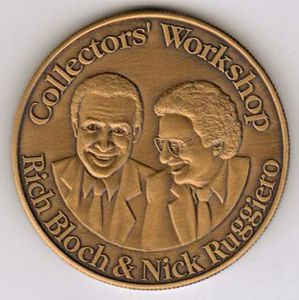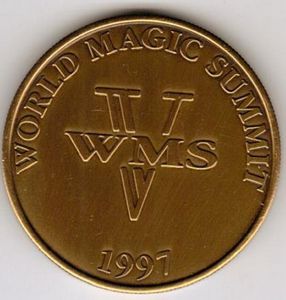 COLLECTOR'S WORKSHOP -- MT068.404 - "World Magic Summit V" Commemorative coin
 (1997)
In Collection


#162
10*
Conjuring
Magic coin / token
Token / Coin 
COLLECTOR'S WORKSHOP -- MT068.404
(World Magic Summit V" Commemorative coin)

MT NUMBER: Not in Kuethe
LOCATION: Virginia, USA
DATE: 1997
OBV: "COLLECTORS' WORKSHOP / RAY BLOCH & NICK RUGGIERO", around busts of both men
REV: :WORLD MAGIC SUMMIT / 1996", around "WMS" over printed on Roman numeral "V"
COMPOSITION: Bz; R2; Silver; R8 Medal St. 39-R
CONDITION: MINT

3rd of 3

Description/ Condition: This Limited Edition Commemorative coin is in "Brand New, Original" Condition..
1st Time Offered To The Public

This Brass coin measures 1.25" diameter
No noticeable wear, and Absolutely No Damage noted
Finish is Original to this Vintage item
It has Never been Polished or Restored

This is a heavy (over 26 gram) coin with a golden bronze color was struck as mementos of the World Magic Summit which was sponsored by the Collector's Workshop from 1993 – 1998. After 1998 the WMS was combined with the Desert Magic Seminar and moved to Las Vegas. Coin is one and a half inch wide. One side of the coin has a portrait of Rich Bloch and Nick Ruggiero and the other side has the year of the convention with the number of that convention. Coin is in pristine condition.

Read It
No
Location
Magic Library (Home)
Condition
Very Fine
Owner
Bryan-Keith Taylor