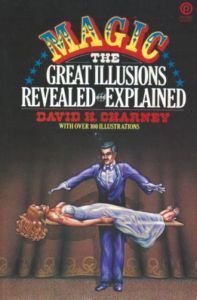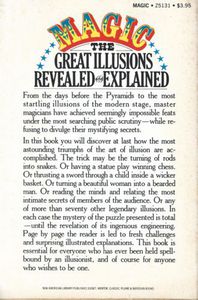 Magic - The Great Illusions Revealed And Explained
Plume Printing (1976)
In Collection


#3177
10*
Body, Mind & Spirit / Magick Studies, Games / Magic, Magic tricks
Paperback 9780812905120
Charney, David H.: Magic The Great Illusions Revealed and Explained
©1976 Robert Hale
Hardcover, 247 pages

Comments: a history of magic and a comprehensive survey of tricks, familiar and unfamiliar illusions; Illustrated.

Contents:

Contents (from book ToC):

v Preface
1 Introduction and History of Magic (Henry Ridgely Evans)

38 Disappearances
38 "...Now You See It..."
40 Vanity Fair
44 After the Flood
48 Magic Palanquin
51 Disappearing Lady
54 Cassadaga Propaganda
57 Thorn Variation
60 Appearing Lady
64 Mysterious Trunk
68 East Indian Trunk
72 Indian Basket
74 Trilby's Couch
78 The Turkish Chess Player
86 Houdin's Magic Cabinet
90 Clown's Decapitation
93 Gone
96 La Strobeika Persane

100 Illusions
100 "Mirror, Mirror On The Wall..."
102 Metempsychosis
106 She
109 Spider and Fly
113 Decapitated Princess
115 Queen of Flowers
118 Black Art
122 Mask of Balsamo
124 Magic Harps
126 Rapping Table
128 Invisible Woman
130 Talking Head
131 Cabaret du Neant
136 Amphitrite
138 Living Half-Woman
140 Mystery of Dr. Lynn
142 Stella
144 Three-Headed Woman

146 Mentalism
146 "I'm Getting A Message..."
148 Mind Reading
166 White Mahatma
169 Silent Thought Transfer
172 Message To Miss Venus
176 Second Sight

180 Escapes
180 "Make Sure It's Tight..."
182 Roped Wrist Test
184 Spirit Post Test
186 Handcuff Test
186 Spirit Collar Test

188 Fire and Steel
188 ".. And Now The Test Of Fire And Steel."
190 Sword Stab
192 Knife Throwers
196 Sword Swallowers
202 Fire Eaters

206 Conjuring
206 "Nothing Up My Sleeve..."
208 Egg and Handkerchief
209 Cone of Flowers
211 Birth of Flowers
215 Magic Hat
218 Cake Baked in a Hat
221 Egg and Hat
223 Double Sou
224 Coin Multiplication
226 Magic Coin
228 Dissolving Coin
230 Spirit Slates
232 Traveling Bottle
234 Apple and Ninepin
236 Ink Aquarium
238 Wine Journey
240 Wine to Water
242 Houdin's Ball
243 Magic Table
245 Animated Mouse
46 Sand Frame

From the days before the Pyramids to the most startling illusions of the modern stage, master
magicians have achieved seemingly impossible feats under the most searching public scrutiny—while refusing
to divulge their mystifying secrets.

In this book you will discover at last how the most astounding triumphs of the art of illusion are accomplished. The trick may be the turning of rods into snakes. Or having a statue play winning chess. Or thrusting a sword through a child inside a wicker basket. Or turning a beautiful woman into a bearded man. Or reading the minds and relating the most intimate secrets of members of the audience. Or any of more than seventy other legendary illusions. In each case the mystery of the puzzle presented is total —until the revelation of its ingenious engineering. Page by page the reader is led to fresh challenges and surprising illustrated explanations. This book is essential for everyone an who has ever been held spellbound
by illusionist, and of course for anyone who wishes to be one.

Read It
No
Location
Magic Library (Home) Shelf D
Condition
Near Mint
Owner
Bryan-Keith Taylor

Comments: a history of magic and a comprehensive survey of tricks, familiar and unfamiliar illusions; Illustrated.

Contents:

Contents (from book ToC):

v Preface
1 Introduction and History of Magic (Henry Ridgely Evans)

38 Disappearances
38 "...Now You See It..."
40 Vanity Fair
44 After the Flood
48 Magic Palanquin
51 Disappearing Lady
54 Cassadaga Propaganda
57 Thorn Variation
60 Appearing Lady
64 Mysterious Trunk
68 East Indian Trunk
72 Indian Basket
74 Trilby's Couch
78 The Turkish Chess Player
86 Houdin's Magic Cabinet
90 Clown's Decapitation
93 Gone
96 La Strobeika Persane

100 Illusions
100 "Mirror, Mirror On The Wall..."
102 Metempsychosis
106 She
109 Spider and Fly
113 Decapitated Princess
115 Queen of Flowers
118 Black Art
122 Mask of Balsamo
124 Magic Harps
126 Rapping Table
128 Invisible Woman
130 Talking Head
131 Cabaret du Neant
136 Amphitrite
138 Living Half-Woman
140 Mystery of Dr. Lynn
142 Stella
144 Three-Headed Woman

146 Mentalism
146 "I'm Getting A Message..."
148 Mind Reading
166 White Mahatma
169 Silent Thought Transfer
172 Message To Miss Venus
176 Second Sight

180 Escapes
180 "Make Sure It's Tight..."
182 Roped Wrist Test
184 Spirit Post Test
186 Handcuff Test
186 Spirit Collar Test

188 Fire and Steel
188 ".. And Now The Test Of Fire And Steel."
190 Sword Stab
192 Knife Throwers
196 Sword Swallowers
202 Fire Eaters

206 Conjuring
206 "Nothing Up My Sleeve..."
208 Egg and Handkerchief
209 Cone of Flowers
211 Birth of Flowers
215 Magic Hat
218 Cake Baked in a Hat
221 Egg and Hat
223 Double Sou
224 Coin Multiplication
226 Magic Coin
228 Dissolving Coin
230 Spirit Slates
232 Traveling Bottle
234 Apple and Ninepin
236 Ink Aquarium
238 Wine Journey
240 Wine to Water
242 Houdin's Ball
243 Magic Table
245 Animated Mouse
46 Sand Frame