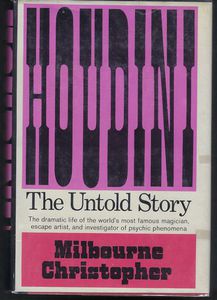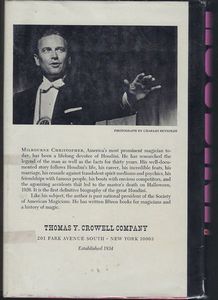 Houdini: the untold story.
Thomas Y. Crowell Company (1969)
In Collection


#3190
10*
Conjuring
Magic tricks - Biography, Magic tricks - History
Hardcover 0304934623
USA 
eng
Christopher, Milbourne: Houdini- The Untold Story
©1969 1st Eidition, Thomas Y. Crowell & Co., New York
Hardbound, 281 pages

Contents:

1 The Incredible Houdini
9 Ehrie
17 The Small Time
28 Medicine Show Medium
35 Breakthrough
42 An Ocean Away
53 The Detractors
63 Verdict in Cologne
70 Imperial Russia
76 Imitators and Innovations
87 America Again
96 Bridge Leaps and Water Cans
106 Challening Challenges
113 Up Over Down Under
121 The Impossible Possible
129 The Stopped Clock
139 Above the Streets
146 The Biggest Illusion
156 Hollywood Star
164 The Man From Beyond
172 Investigating the Spirits
182 Revelations
187 Margery the Medium
195 The Fraudproof Box
200 Crusder
209 The Mystifer
216 The Big Show
230 Buried Alive
238 "Grit"
245 Detroit '25
254 The Message
261 Postscript

264 Sources and Acknowledgments
266 Bibilography of Words by Houdini
268 General Bibliography
273 Index

LoC Classification
GV1545.H8C5 1969b
Dewey
793.8/0924
No. of Pages
281

Read It
No
Location
Magic Library (Home) Shelf D
Condition
Very Fine
Owner
Bryan-Keith Taylor
Links
Library of Congress

Christopher, Milbourne
(1914-1984)
Major American magical entertainer, author, inventor and collector. Performed a popular full-evening show for many years. Produced and performed in the first network TV magic special, "The Festival of Magic", broadcast on May 27, 1957 on NBC-TV (a show which also featured Cardini's last television appearance). He wrote a long-running column in Hugard's Magic Monthly under the pen name "Frank Joglar", derived from words meaning "candid magician".
Invented: Telegram to Flowers, Eeire Rabbit and the original Forgetful Freddy
He wrote a number of classic books on magic history, including Panorama of Magic, The Illustrated History of Magic, Milbourne Christopher's Magic Book (1977), and Houdini: The Untold Story.