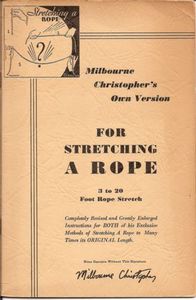 Milbourne Christopher's Own Version For Stretching A Rope
Kanter's Magic Shop (1946)
In Collection


#3192
10*
Conjuring
Magic tricks
booklet 
USA 
eng
Christopher, Milbourne: Milbourne Christopher's Own Version For Stretching A Rope
©1938 Kanters Magic Shop, PA
Softcover, saddle-stitched, 5.5x8.5", 13 pages

Comments: 3 to 20 Foot Rope Stretch. Illustrations by Bill Hanna.

Contents:

3 Introduction: two methods presented
5 Philadelphia Method
11 Lancaster Method: a "novice" version of the Philadelphia method
13 General Suggestions

Completely Revised and Greatly Enlarged
Instructions for Both of his Exclusive
Methods of Stretching A Rope to Many
Times its Original Length.

Edition
Second printing
No. of Pages
13

Read It
No
Location
Magic Library (Home) Shelf D
Condition
Very Fine
Owner
Bryan-Keith Taylor
Christopher, Milbourne
(1914-1984)
Major American magical entertainer, author, inventor and collector. Performed a popular full-evening show for many years. Produced and performed in the first network TV magic special, "The Festival of Magic", broadcast on May 27, 1957 on NBC-TV (a show which also featured Cardini's last television appearance). He wrote a long-running column in Hugard's Magic Monthly under the pen name "Frank Joglar", derived from words meaning "candid magician".
Invented: Telegram to Flowers, Eeire Rabbit and the original Forgetful Freddy
He wrote a number of classic books on magic history, including Panorama of Magic, The Illustrated History of Magic, Milbourne Christopher's Magic Book (1977), and Houdini: The Untold Story.