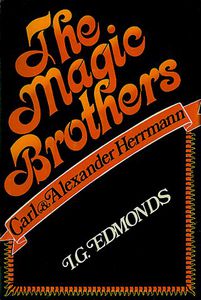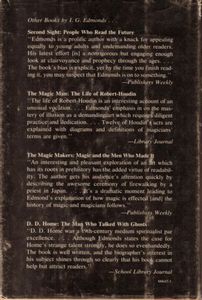 The Magic Brothers - Carl & Alexander Herrman
Elsevier/ Nelson Books (1979)
In Collection


#3349
10*
Conjuring
Magician - Biography
Hardcover 0-525-66645-1
USA 
eng
Edmonds, I. G.: The Magic Brothers
©1979, Elsevier/ Nelson Books
Hardcover, 166 pages

Description

Title: The Magic Brothers Carl & Alexander Herrman
Author: I.G. Edmonds
Publisher: Elsevier/ Nelson Books, New York
Date Published: 1979
Hardcover: Yes, two tone orange , black letters on spine
Dust Jacket: Yes

Library of Congress Catalog Card No.
ISBN No.: 0-525-66645-1

Number of pages: 166

Size: 8 ¼" X 5 ½"

Condition / remarks: This presumed first edition book is in good condition. The dust jacket is a bit worn but it has protected the book well…book is clean and nice. The name of original owner is written on back of first page. But there is no other writing within. The inside covers and adjacent pages have black and white photo portraits of "The Magic Brothers", Alexander and Carl Herrmann. The pages are white and clean and there are no tears or rips. This is a wonderful account of early magicians in the 1860's who were brothers. There is an "Index of Tricks Explained" as well as a regular Index.

LoC Classification
GV1545.A2E35
Dewey
793.8'092'2[B]
Cover Price
$18.00
No. of Pages
166

Read It
No
Location
Magic Library (Home) Shelf F
Condition
Very Good
Owner
Bryan-Keith Taylor
Links
Library of Congress