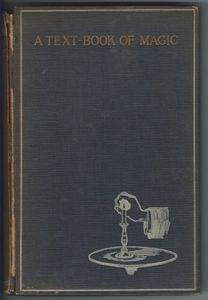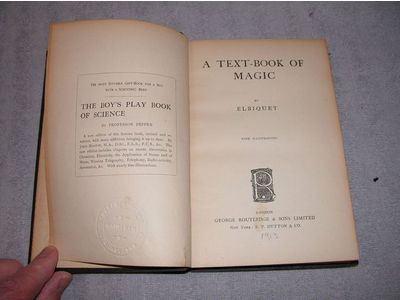 A Text-Book Of Magic
George Rutledge & Sons, Limited (1913)
In Collection


#3356
10*
Conjuring
Magic tricks
Hardcover 
USA 
eng
Elbiquet: A Text-Book Of Magic
©1913, George Rutledge & Sons, Limited
Hardcover, 199 pages

A Text-Book Of Magic Rare

Abebook price 109.00

Scarce Book by Elbiquet A Text-Book Of Magic 1st Edition

Published by George Rutledge and Sons Limited, London, no date c.1914, blue-purple cloth, illustrated with line drawings, and containing 203 pages + 24 page catalog in rear.
The contents cover a wide range of various effects: Card Tricks; Handkerchief Tricks; Coin Tricks; and of all things, Hat Tricks.

A TEXT-BOOK OF MAGIC by Elbiquet have held up fairly well being 100 old. The pages are browing now with age, but the text is still crisp and the bindings tight, though there are issues with the covers of both books. Has the standard types of tricks, cards, coins, hanks, etc. The condition of the cover is that the corners are bumped and worn. The cloth on the spine is separated all down the front. It is now a flap attached to the back, but can be repaired.

Read It
No
Location
Magic Library (Home) Shelf F
Condition
Fair
Owner
Bryan-Keith Taylor
L.H. Branson
From MagicPedia
Major Lionel Hugh Branson (1879 - 1946) was an English officer that served with the Indian Army from 1899 until 1922 who liked conjuring and practical jokes.

Branson learned magic from reading Hoffmann's Modern Magic and around 1889 he studied under Charles Bertram. In his biography he describes how he used magic methods to ambush enemies, solve crimes, detect malfeasance, and solve bureaucratic dilemmas.

In 1913, as "Lionel Cardac", he played London's Palace of Varieties for three weeks.

Branson was a Member of the Inner Magic Circle (MIMC) and two of his sons, Tony (b. 1909) and Cyril (b. 1918) also took up magic.

He wrote two books under the pen name of Elbiquet.

Books
•A Text Book of Magic as Elbiquet (1913)
•Supplementary Magic as Elbiquet (1917)
•Indian Conjuring (1922)
•A Lifetime of Deception: Reminiscences of a Magician (1953)
References
•DETECTING DECEPTION: A BIBLIOGRAPHY OF COUNTERDECEPTION ACROSS TIME, CULTURES, AND DISCIPLINES by Barton Whaley (2006)