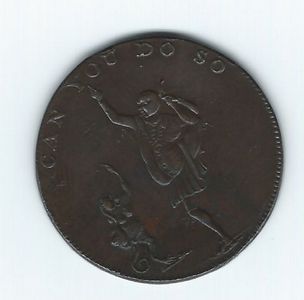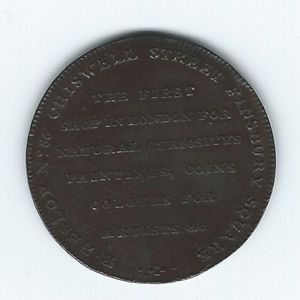 HESLOP R. -- MT159.000
 (1795)
In Collection


#337
10*
Conjuring
Magic coin / token
Token / Coin 
HESLOP R. -- MT159.000

LOCATION: London.
DATE: 1795.
OBV: Contortionist and monkey, above is "CAN YOU DO SO"-.
REV: Around is "R. HESLOP No. 86 CHISWELL STREET FINS-BURY SQUARE" inside is THE FIRST/ SHOP IN LONDON FOR/ NATURAL CURIOSITYS/ PAINTINGS, COINS/ COLOURS FOR/ ARTISTS & C.
COMPOSITION: C, R6, V7_ 29-S

Heslop's shop in London was well known for selling conjuring supplies, as well as the other items listed on his token.

Read It
No
Location
Magic Library (Home)
Condition
Very Fine
Owner
Bryan-Keith Taylor