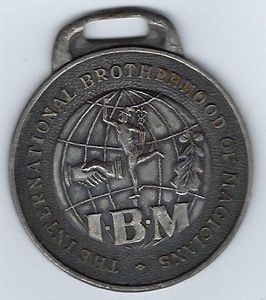 IBM -- MT168.000
 (1935)
In Collection


#358
10*
Conjuring
Magic coin / token
Token / Coin 
IBM -- MT168.000

LOCATION: Kenton, Ohio
DATE: 1935
OBV: In center, "World with Mercury, 2 hands shaking, oak leaf, "I.B.M." around is: "THE INTERNATIONAL BROTHERHOOD OF MAGICIANS".
REV: "ST. LOUIS / BUTTON CO".
COMPOSITION: NS, R5. (Badge fob) 39-S

Design and detail, this is one of the most beautiful tokens issued in a couple of decades. It was issued by the IBM in 2000 to commemorate the Millenium. Rev, "Our mission is to promote fellowship and the advancement of magic as a performing art. ".

Read It
No
Location
Magic Library (Home)
Condition
Mint
Owner
Bryan-Keith Taylor