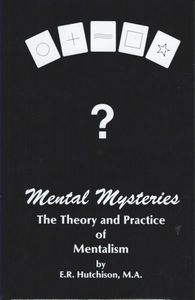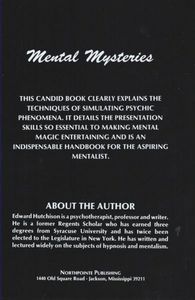 Mental Mysteries - The Theory and Practice of Mentalism
Northpointe Publishing (2013)
In Collection


#3834
10*
Biography
Mentalism Theory
Hardcover 
United States of America 
eng
Hutchinson, Edward .R.: Mental Mysteries
The Theory and Practice of Mentalism
©1993 E.R. Hutchinson, Northpointe Pub., MI
©2013 E.R. Hutchinson, Northpointe Pub., MI
Hardcover, 5.5x8.5", 124 pages

Comments: Appears to be an updated version of his earlier Psychological Mysteries
Contents (Chapters, from book ToC):

1 Introduction
5 Chapter 1: On The Easter Bunny
11 Chapter 2: The Ethics Of Deception
21 Chapter 3: Magic And Mentalism
27 Chapter 4: Becoming A Mentalist
37 Chapter 5: Presentation Suggestions
41 Chapter 6: In The Matter Of A Fee
49 Chapter 7: Psychological Mysteries
69 Chapter 8: Patter Suggestions
75 Chapter 9: Impromptu Future Foretold
93 Chapter 10: Mental Force
101 Chapter 11: Giant Memory Routine
109 Chapter 12: Mindreading Deluxe
113 Chapter 13: Lie Detector
117 Chapter 14: Design Prophecy
121 Chapter 15: Prologue

Description:

This candid book clearly explains the techniques of simulating psychic phenomena. It details the presentation skills so essential to making mental magic entertaining and is an indispensable handbook for the aspiring mentalist.

Edward Hutchison is a psychotherapist, professor, and writer. He is a former Regents Scholar who has earned three degrees from Syracuse University and has twice been elected to the Legislature in New York. He has written and lectured widely on the subjects of hypnosis and mentalism.

Read It
No
Location
Magic Library (Home)
Condition
Near Mint
Owner
Bryan-Keith Taylor