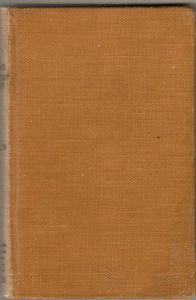 Variety Entertainments
Frederick J. Drake & Co
In Collection


#3900
10*
Conjuring
Hardcover 
USA 
English
Keller, Robertson: Variety Entertainments
©? Frederick J. Drake & Co
Hardcover, 188 pages

Keller's Variety Entertainments. Chicago: Frederick J. Drake & Co., Chicago; No date. 188 pages. 6 1/2" by 4 1/4". Ex-library. Tan cloth hardcover in library binding. Very Good condition/no dustjacket. Slight soiling to covers, corners and edges lightly rubbed, library marking on spine, library number in pencil on title page, library pocket removed from inside rear cover and "Date Due" slip torn out, age toning to pages. "Being a collection of original, laughable skits on conjuring, physiognomy, juggling, performing feats, wax works, panoramas, phrenology, phonography, second sight, lightning calculation, ventriloquism, spiritualism, to which are added humerous sketches, whimsical recitals, parlor, club and lodge room comedies, etc. "

Read It
No
Location
Magic Library (Home) Shelf O
Condition
Very Fine
Owner
Bryan-Keith Taylor