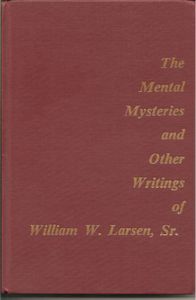 The Mental Mysteries and Other Writings of William W. Larsen, Sr.
Genii Publ. (1977)
In Collection


#3947
10*
Conjuring
Magic-Mentalism
Hardcover B000NQLZ50
USA 
eng
Larsen, William, Jr.: Mental Mysteries and Other Writing of William Larsen Sr.
©1977 Genii Publishing Co.
Hardcover, no DJ, 6x9", 221 pages

Comments: Illustrator: Mickey O'Malley

Contents (Chapters from web description, numbers are not page numbers):

1 The Pineal Eye
2 The Resort Hotel Psychic Business
3 Lecture for Annemann's Pseudo-Psychometry
4 Tarot Telepathy
5 Contact and Non-Contact Mindreading
6 Larsen on Fortune Telling
7 Evidence of Deception
8 People vs. Miracles Smith
9 Complete Card Reading Lecture
10 J. Thurman Lord's Card Reading
11 Life Span Reading
12 J. Thurman Lord's Message Bearing Tests
13 Dr. Di Ghilini's Great Witch Doctor Test
14 Spook Show Routines
15 The Final Houdini Seance
16 The Great Handcuff Escape Act
17 The Escapes of Harry Houdini Lecture
18 The Publicity Box Escape
19 Palm Reading
20 Dr. Q's Living or Dead Quiz
21 Dr. Q's Hypnotic Act
22 Dr. Q's Gyrating Tables
23 Dr. Q's Number, Please
24 Dr. Q's Simplicity Mindreading
25 Dr. Q's Sight Unseen



Abebooks price range 125.00 - 243.00

Read It
No
Location
Magic Library (Home) Shelf O
Condition
Near Mint
Owner
Bryan-Keith Taylor
Larsen, William W. (Sr.)
(1905-1953)
American lawyer and magician who founded Genii magazine. In 1939, he toured the USA with his entire family participating in his full-evening stage show. He also purchased and operated Thayer Magic Co. from 1942 to 1947.
In 1963, Milt Larsen and William Larsen, Jr. opened The Magic Castle, in Hollywood, CA, fulfilling Bill Larsen Senior's dream of a a home for the Academy of Magical Arts, which Larsen,Sr. had first created in the pages of Genii magazine in 1952..
Invented: Double Block Penetration,Bengal Turban Mystery, many others.
Wrote: Spook Show in your Parlor, Mental Mysteries With Cards, The Mental Mysteries of William Larsen, Sr (1977).
Also invented: "Finger Prints" the first description in print (July, 1923) of what would become the "Out to Lunch" principle, and many of the effects in The Encyclopedia of Rope Magic,
Jay Leslie remembers: "William Larsen, Sr. was so prolific as a writer that he had several pseudonyms on his directions because people did not believe that one man could invent so much stuff. He also rarely made a mistake while typing instructions.