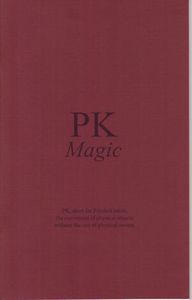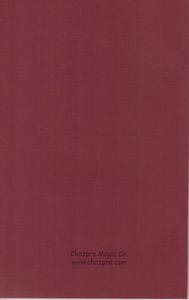 PK Magic
Chazpro Magic Co. (2002)
In Collection


#3952
10*
Conjuring
Magic tricks
Paperback 
USA 
eng
Leach, Chuck: PK Magic
©2002 Chazpro Magic Co.
Paperback, ? pages

PK, Short for Psychokinesis, the movement of physical objects without the use of physical means.

Previously available in two separate volumes, all of the material is now available in a single publication. PK Magic contains valuable information for anyone interested in Psychokinetic (moving objects without the use of physical means) effects. The first section contains over 30 routine ideas using props you can easily make yourself plus lots of tips on how to conceal magnets and additional presentation pointers.

The second section offers over 40 new trick ideas, tips and routines-puzzlers, psychic effects, levitations, bar stunts and more, plus a special section on using the Micro 5 magnet concealed on your wrist. Staple bound, 39 pages.

Read It
No
Location
Magic Library (Home) Shelf O
Condition
Mint
Owner
Bryan-Keith Taylor