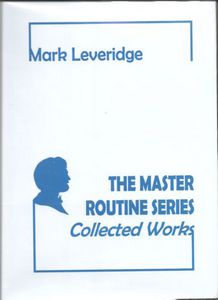 The Master Routine Series - Collected Works by Mark Leveridge
Mark Leveridge Publication (2004)
In Collection


#3968
10*
Conjuring
Magic tricks
Hardcover 
Great Britain 
eng
Leveridge, Mark: Master Routine Series – Collected Works
©2004 Mark Leveridge, England
Hardcover, w/dj, 8"x12", 125 pages M

Comments: A compilation of the 12 Master Routine Series, which began in 1984. Revised and updated with new drawings by James Fortune.

Contents (from book ToC):

4 Introduction
6 Foreword (James Fortune)
7 Master Routine 1 - The Commercial Sponge Ball Routine
18 Master Routine 2 - The Free Selection Collectors: cards
32 Master Routine 3 - Stay At Home Coins: Boston Box routine
45 Master Routine 4 - The Ring Competition: Ring & rope routine; stand-up
52 Master Routine 5 - Wild Dice: Shell game using matchbox drawers and dice
62 Master Routine 6 - The Ring And String Routine: finger ring and cord
71 Master Routine 7 - Spot The Difference: Jumbo Three Card Trick
83 Master Routine 8 - The Security Pen: coins vanish into and are retrieved from a pen
92 Master Routine 9 - The Borrowed Ring On Pencil
100 Master Routine 10 - The Emperor's Coins: another Boston Box routine
107 Master Routine 11 - A Bic Too Far: using miniature Bic lighters
117 Master Routine 12 - Slo-Mo: table hopping coins
2004 First Edition "The Master Routine Series - Collected Works" by Mark Leveridge

This hardcover, 125 page book, features twelve amazing routines, including magic with cards, rings, lighters, pencils, purses, handkerchiefs, Jumbo cards, dice, and more!! Included are routines appropriate for close-up, strolling, and stand-up magic, and all of the routines have been audience tested. As described on the rear dust jacket cover: "Originally all of the 12 Master Routines were offered separately, and each was accompanied by a diagram booklet. These diagrams have been completely revised and redrawn for this book". The included routines were initially released individually from 1984 through 2003. Book and unclipped dust jacket are both in near MINT condition!! The dust jacket is protected with a BRODART, paper backed, Plasti-Kleer brand mylar.

Read It
No
Location
Magic Library (Home) Shelf O
Condition
Mint
Owner
Bryan-Keith Taylor