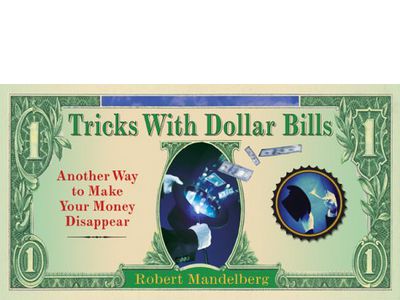 Easy Mind-Reading Tricks - Another Way To Make Your Money Disappear
Sterling (2006)
In Collection


#4024
10*
Conjuring
Dollar, American, Paper money, Tricks
Spiral-bound 9781402738562
English
Mandelberg, Robert: Tricks With Dollar Bills: Another Way To Make Your Money Disappear
©2006 Sterling
Spiral-bound, 80 pages
ISBN-13: 9781402738562
ISBN-10: 1402738560

Got a dollar? Then you've got all it takes to astound friends and co-workers, and maybe even win a friendly wager or two! Well, that and this collection of more than two dozen incredible tricks that can be performed using everyday legal tender. Some of the tricks involve simple sleight of hand while others challenge both the audience's knowledge and powers of observation. Photographs and diagrams show the manipulations required to perform the "French Drop" and "French Switch," the impressive "Double Dollars" effect, and the deliciously puzzling "Bill in Fruit" illusion. No prior experience with performing or magic is required—just a willingness to learn and a dollar bill. It's the most fun you can have for a buck.

LoC Classification
GV1559 .M26 2006
Dewey
793.8
Cover Price
$5.95
No. of Pages
80
Height x Width
7.9 x 4.5  inch

Read It
No
Location
Magic Library (Home) Shelf P
Condition
Mint
Owner
Bryan-Keith Taylor
Links
Library of Congress