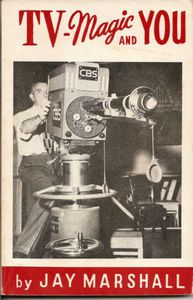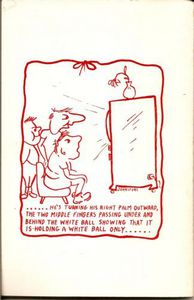 TV-Magic and You
TV-Magic and You (1955)
In Collection


#4045
10*
Conjuring
Magic tricks - Handbooks, manuals, etc
Paperback 
USA 
eng
Marshall, Jay: TV-Magic and You
©1955, TV-Magic and You
Paperback, 124 pages

book is very good, tight, clean trade paperback. Illustrated with photos of vintage early magic performances on tv. This book has both practical (circa mid 1950s) advice for tv magicians and historically interesting material on television shows that featured magic in the 1950s.

Read It
No
Location
Magic Library (Home) Shelf Q
Condition
Very Fine
Owner
Bryan-Keith Taylor
Marshall, Jay
(1919 - 2005)
James "Jay" Marshall who was also nicknamed "Jasper," invented and marketed the "Jaspernese Rope Tie" in 1939. During World War II, Marshall was "island-hopping" in the Pacific to entertain military personnel in USO shows. He became tired of taking his elaborate ventriloquist's dummy called Henry with him, so he decided to use a white glove and some bunny ears to turn his left hand into his dummy which he called "Lefty." In 1955, Marshall married Frances Ireland, proprietress of the Ireland Magic, a Chicago magic store bequeathed to her at the death of her previous husband, magician L.L. Ireland. They reopened the store as Magic Inc. and built it into an active publishing house and center of magic culture for Chicago.
Also invented: The Idiot's Rope Trick,
Wrote: TV - Magic and You (1955), If You're the M.C. (with Frances Ireland Marshall), Jays Jinking Rings Book,
Media: Jay Marshall's Table Crap (DVD), Table Book by Frances and Jay Marshall