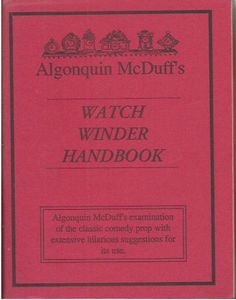 Algonquin McDuff's Watch Winder Handbook
 (1992)
In Collection


#4079
10*
Conjuring
Magic tricks
Softcover 
USA 
eng
Algonquin McDuff-Bryson & Cleveland: Algonquin McDuff's Watch Winder Handbook
©1992 2nd Ed,
Softcover, 48 pages

This is soft cover book Watch Winder Handbook, by Algonquin McDuff. assisted by Rhett Bryson & Dester Cleveland, 2nd Ed.1992. They share a history of this noisy and fun prop, with ads from late 1800s to the modern age. Then a variety of fun ways to use this prop in your magic routines, with some suggested patter.

DATE: 1992

SIZE: 4 1/4 by 5 5/8 inches, 48 pages, with light card covers.

COND: All in otherwise very Fine, almost Mint condition.

No. of Pages
48
Original Publication Year
1873

Read It
No
Location
Magic Library (Home)
Purchase Date
4/1/2015
Condition
Fair
Owner
Bryan-Keith Taylor