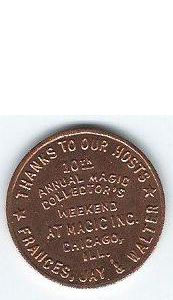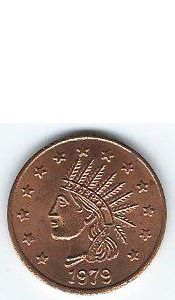 MAGIC, INC. -- MT229.050
 (1979)
In Collection


#453
10*
Conjuring
Magic coin / token
Token / Coin 
MAGIC, INC. -- MT229.050

LOCATION: Chicago, IL.
DATE: 1979
OBV: "*THANKS TO OUR HOSTS * / FRANCES / JAY & / WALTER", around, "10th / ANNUAL MAGIC / COLLECTOR'S / WEEKEND / AT MAGIC INC. / CHICAGO, / ILL.".
REV: 13 stars, "1979" around Indian head. (Patrick Mint)
COMPOSITION: Cu, NiPlCp, Medal St. 20.5-S


Souvenir penny. One side is an Indian head with feathers, stars around the edge, and 1979. The reverse side states "10th ANNUAL MAGIC COLLECTOR'S WEEKEND AT MAGIC, INC. CHICAGO, ILL.. Around the edge it states THANKS TO OUR HOSTS FRANCES, JAY & WALTER. The 10th annual weekend took place in 1979.

Read It
No
Location
Magic Library (Home)
Condition
Very Fine
Owner
Bryan-Keith Taylor