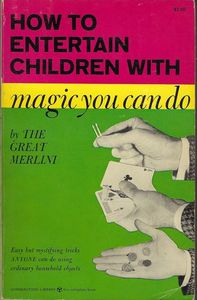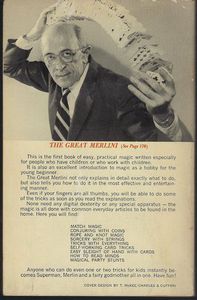 How to Entertain children with Magic You Can Do
Cornerstone Library (1965)
In Collection


#4117
10*
Conjuring
Magic tricks
Paperback 9780671210564
USA 
eng
Merlini the Great; Clayton Rawson: How to Entertain children with Magic You Can Do
©1962 Cornerstone Library
Hardcover, 175 pages
©1965 Cornerstone Library
Paperback, 175 pages
©1971 Holiday House
Paperback, 175 pages
ISBN-13: 9780671210564
ISBN-10: 0671210564
©2011 Literary Licensing, LLC
Paperback, 175 pages
ISBN-13: 9781258209537
ISBN-10: 1258209535

This book is HOW TO ENTERTAIN CHILDREN WITH MAGIC by The Great Merlini, a professional magican. This hard cover book contains 100 easy-to-do magic tricks to entertain children.

This book has been read and was withdrawn from a school library and was obtained for private use. Wear is noted but overall condition is great as we could not find any torn pages or writing on the text pages. It still contains the pocket for library cards and the due date sheet. Great books for children.

Read It
No
Location
Magic Library (Home) Shelf Q
Condition
Very Good
Owner
Bryan-Keith Taylor