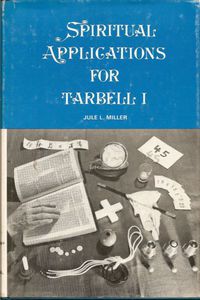 Spiritual Applications For Tarbell
Houston, Gospel Services Inc (1976)
In Collection


#4132
10*
Conjuring
Magic tricks
Hardcover 
USA 
eng
Miller, Jule: Spiritual Applications for Tarbell 1
©1976 Jule L. Miller, Magmissons, Houston, TX
Hardcover, w/dj, 8x10", 160 pages

Comments: Provides Bible object lessons for many of the tricks found in Tarbell's Course in Magic, volume 1. You should have Tarbell's book to get the most out of this.

Contents (Chapters only, from book ToC):

1 Chapter 1: Getting Started in Magic
7 Chapter 2: Coin Tricks
27 Chapter 3: The Thumb Tip
35 Chapter 4: Impromptu Tricks
49 Chapter 5: Ball Tricks
57 Chapter 6: Mathematical Mysteries
63 Chapter 7: Effective Card Mysteries
69 Chapter 8: Impromptu Card Mysteries
79 Chapter 9: Mental Card Mysteries
91 Chapter 10: Novel Card Mysteries
97 Chapter 11: Restoring Torn Papers
107 Chapter 12: The Rope and Tape Principle
119 Chapter 13: Handkerchief Tricks
131 Chapter 14: Knotty Silks
145 Chapter 15: Eggs and Silks
153 Chapter 16: Index by Scriptures

--------------------------------------------------------------------------------

SPIRITUAL APPLICATIONS FOR TARBELL by Jule L. Miller

Houston, Gospel Services Inc., 1976. Blue cloth over boards with silver title to cover and spine, Size Approx 6.25" x 9.25", 160pp. In nice condition overall, boards have some light bumping, wear and scuffing. Pages are clean and binding is solid. Dj is unclipped and in nice shape with some wear to edges, corners and spine along with some light scuffing.

The author starts with "Tarbell Course in Magic: Volume 1" to give the reader a number of tricks. The author then explains how to use it to teach spiritual applications. It covers topics such as the history of magic, coin tricks, ball tricks, card tricks, hankerchief tricks, rope and knot tricks, and egg tricks. Included are photographs and a scripture index.

Another intriguing collectible from the personal library of Magician and bibliophile, Jay Marshall.

Read It
No
Location
Magic Library (Home) Shelf Q
Condition
Very Fine
Owner
Bryan-Keith Taylor