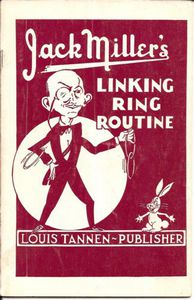 Jack Miller's Linking Ring Routine
Louis Tannen (1945)
In Collection


#4196
10*
Conjuring
Magic tricks
booklet 
USA 
eng
Novak, Bob: Jack Miller's Linking Ring Routine
With a special supplementary feature including "Miracle Moves with Ring and Rope"
©1945 Louis Tannen
Paper, stapled, 36 pages

Comments: Small B&W photographs used throughout, not always the most clear. Makes a decent, inexpensive addition to your linking ring library, although not comprehensive enough to stand as your only source. Teaches only one link: the Miller Heel Link, but provides a decent routine for 5 rings, with the first part using only 3, so may provide some ideas for any type of routine. Does not inturrupt the flow with a bunch of "figures", which can tend to be overdone. The Ring and Rope moves (3 of them) could make for a handy addition to a ring routine, or could be used as part of a completely separate ring and rope routine with a large ring.

Contents:

iii Preface by Jean Hugard. Jack Miller's giant card work, Utility Hold Out
iv One of Those Things by Bob Novak. Credit to Mr. Tannen for the idea
v Contents
vii Before Starting...Jack Miller's Linking Ring Routine With Five Rings. notes about the routine (uses S, D, S, K)
9 The Count. Counting the 5 rings seperately
10 Having Rings Examined Without Switching Key: One ring placed at elbow, other 4 rings shown linked. They are then counted again, and handed to audience (one double linked and two singles).
11 How To Take Two Single Rings From Spectator and Link Them Together.
12 The Snap Thru. a nice unlink
13 Can't Go Thru: ring through ring
14 Off the Arm: ring is pulled through the arm
15 Lay In the Hole: more rings through rings
16 The Beer Sign: using 3 rings
17 Chain of Three: two linked on one form a chain of 3
17 Sucker Key Switch Separation: valuable key switch
18 Separating Two Solid Linke Rings: secret swtich of double set
20 Pushing the Rings Through the Arm: two rings through the arm
22 Causing the Ring to Jump from one Arm to the Center of the Other Arm
24 Ring Monte: deceiving the eyes of the audience
25 Chain of Four
26 The Climax Chain Five Rings
29 Special Supplementary Feature...Miracle Moves with Ring and Rope. A baffling routine using a large solid steel ring and a length of rope. Requirements: one solid ring approximately 8 inches or more in diameter. One piece of soft rope, approximately 8-10 feet in length.
31 Miracle Move No 1 Causing a solid ring to penetrate a loop of rope, knotted together on the ends.
32 Miracle Move No 2 Causing a solid ring to penetrate a tightly knotted rope: another version
34 Miracle Move No 3 Causing a solid ring hanging inside a tightly kotted rope to penetrate the rope and fall to the floor
36 Advertisement for Tarbell's Course In Magic

Read It
No
Location
Magic Library (Home) Shelf R
Condition
Very Good
Owner
Bryan-Keith Taylor
With a special supplementary feature including
"Miracle Moves With Ring And Rope"

Small B&W photographs used throughout, not always the most clear. Makes a decent, inexpensive addition to your linking ring library, although not comprehensive enough to stand as your only source. Teaches only one link: the Miller Heel Link, but provides a decent routine for 5 rings, with the first part using only 3, so may provide some ideas for any type of routine. Does not inturrupt the flow with a bunch of "figures", which can tend to be overdone. The Ring and Rope moves (3 of them) could make for a handy addition to a ring routine, or could be used as part of a completely separate ring and rope routine with a large ring.