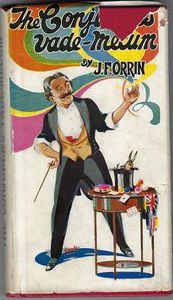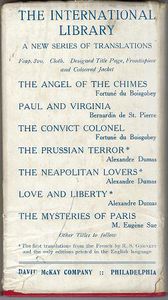 The Conjurer's Vade Mecum
Stanley Paul & Co. (1922)
In Collection


#4218
10*
Conjuring
Magic, Magic tricks
Hardcover 
USA 
eng
Orrin, J.F.: The Conjurer's Vade Mecum
©1922 Stanley Pauln & Companyg
Hardcover, w/dj, 159 pages

THE CONJURER'S VADE MECUM

By: J. F. ORRIN
(Associate of the Inner Magic Circle)

WITH A FOREWORD BY: WILL GOLDSTON
(First Vice President of the Magicians' Club, London)

WITH
80 DIAGRAMS
AND
Illustrations by the Author.


A wee book-The Conjurer's Vade Mecum-J.F Orrin-circa 1922 vFINE-


Hard cover book with dust jacket, THE CONJURER'S VADE MECUM, by J. F. Orrin, with a foreword by Will Goldston. With 80 diagrams and illustrations by the author, on cards, coins, handkerchiefs, etc. This is a wee book, listed as no. 536, in A Short Title History and Checklist of Wee Books 1800-2005, written and published by Raymond A. Ricard.

You can find this on the AddAll on-line book search selling for $20.00 and up. Our starting bid is lower and there is no reserve. Bid and the item will sell.

DATE: circa 1920s/30s.

SIZE: 3 1/2 by 6 inches, 160 pages, hard cover with worn dust jacket.

COND: Dust jacket has multiple edge and fold tears, all closed with archival tissue tape. Front cover of dust jacket has large chip on upper right corner. Former owners bookplate on inside front cover, and his sticker on front blank endpaper. Book is in otherwise very Fine, almost Mint condition.

Read It
No
Location
Magic Library (Home)
Condition
Near Mint
Owner
Bryan-Keith Taylor