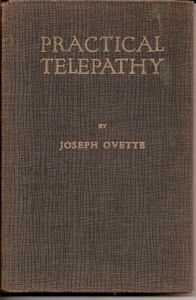 Practical Telepathy
The Reilly Company (1924)
In Collection


#4242
10*
Conjuring
Magic-Mentalism
Hardcover 
USA 
eng
Ovette, Joseph: Practical Telepathy
©1924 The Reilly Company
Hardcover, 125 pages

A Technical Treatise in Non-Tecnical Language
Designed to Benefit the Profesional and Amateur,
and to Give a Broader Insight Into One of the
Most Fascinating Branches of Public Entertaining.

Read It
No
Location
Magic Library (Home) Shelf S
Condition
Good
Owner
Bryan-Keith Taylor
Ovette, Joseph
(1885-1946)
Italian-born stage magician who gained fame as vaudeville's The Great Ovette (real name Giuseppi Olivio). In later years, he performed in Oriental costume as "Lung Tchang Yuen", staying in character even after performances, in the style of Chung Ling Soo.
Invented the Ovette Master Move (1927) (later reinvented as the "Kelly Bottom Placement") and Ovette's Chinese Tea Chest.
Wrote : Practical Telephathy (1924), Publicity Miracles (1928), Silk Creations (1931), Fast Ones (1940), Tricks and Illusionettes (1944).