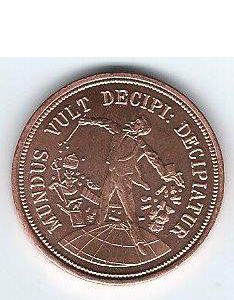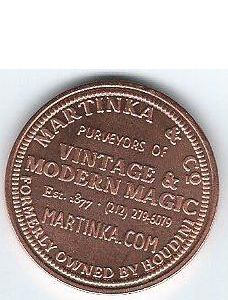 Martinka -- MT240.001
In Collection


#489
10*
Conjuring
Magic coin / token
Token / Coin 
Martinka -- MT240.001

LOCATION: New York
DATE: 2016
OBV: Magician astride world, "MUNDUS VULT DECIPI : DECIPIATUR"
REV: "MARTINKA & Co / PURVEYORS OF / VINTAGE & MODERN MAGIC / Est. 1877* (212) 279-6079 / MARTINKA.COM / FORMERLY OWNED BY HOUDINI".
COMPOSITION: CpPlZn, NiPlCpPlZn 30-S

Ted Bogusta had new Martinka tokens made by Patrick Mint. 500 are CpPlZn, 500 are NiPlCpPlZn. All are Medal struck.

The coins carry the latin phrase "Mundus Vult Decipi Decipiatur" which roughly translates to:
"the World wants to be fooled, so fool them"

Read It
Yes
Location
Magic Library (Home)
Condition
Very Fine
Owner
Bryan-Keith Taylor
Martinka
From Wikipedia, the free encyclopedia
Jump to: navigation, search
Martinka & Company is America's oldest magic company. Throughout the years the company has acquired and combined with over 30 other magic firms including Hornmann and Milton Chase and its roots date back to the early 1800s.

Contents [hide]
1 Beginnings
2 Projects
3 Owners
4 Notes
5 External links


[edit] Beginnings
The business was founded in 1877 by the brothers, Francis and Antonio Martinka.

In the back of their New York City store was a workshop where magic illusions were built for all of the famous magicians of the day. Customers of the past included Alexander Herrmann, Harry Kellar, Howard Thurston and Houdini. And in more recent times, Woody Allen, David Copperfield (illusionist) and David Blaine have also visited the shop.

[edit] Projects
The Martinka brothers also built the special effects for shows including the original production of The Wizard of Oz. In the 1940s, Martinka & Co. was involved in several top secret projects that still remain a mystery today.

In 1902, the Society of American Magicians was founded in the backroom of the Martinka shop.

[edit] Owners
The business has had a string of famous owners including Charles Joseph Carter The Great (1917), Harry Houdini (1919), Al Flosso, the Coney Island Fakir (1939), and Jackie Flosso. Today, the firm is run by Ted Bogusta and operates a brick and mortar shop with a mini museum as well as an online magic auction. The company continues to purchase magic collections and libraries, which are used to supply magicians and collectors throughout the world with vintage and modern magic.

In 2004 the shop and museum moved from NYC to Midland Park, NJ. The company has resumed manufacture of magic tricks.[1]

[edit] Notes
^ Martinka & Co. website.
[edit] External links
Martinka & Co. official website
[hide]v • d • eMagicians

Historical Alexander · Theodore Annemann · Carl Ballantine · David (Fu Manchu) Bamberg · Tobias Bamberg · David Berglas · Harry Blackstone, Jr. · Harry Blackstone, Sr. · J.B. Bobo · Kuda Bux · Chan Canasta · Cardini · Charles Joseph Carter · Joseph Dunninger · Br. John Hamman · Doug Henning · Alexander Herrmann · Black Herman · Harry Houdini · Burling Hull · Harry Kellar · Al Koran · Max Malini · John Nevil Maskelyne · Jean Eugène Robert-Houdin · Tony Slydini · Howard Thurston · Dai Vernon · The Zancigs · Herb Zarrow


Contemporary Criss Angel · Herbert L. Becker · David Blaine · Derren Brown · Lance Burton · David Copperfield · Rudy Coby · Paul Daniels · Dorothy Dietrich · Terry Evanswood · Lennart Green · Ricky Jay · Mac King · Jeff McBride · Gopinath Muthukad · The Pendragons · James Randi · Siegfried & Roy · Jerry Sadowitz · Penn & Teller · Val Valentino


By nationality American · Australian · Austrian · Bangladeshi · Belgian · British · Canadian · Dutch · Finnish · French · German · Indian · Irish · Israeli · Italian · New Zealand · Singaporean · Spanish · Swedish · Ukrainian


This magic-related article is a stub. You can help Wikipedia by expanding it. v • d • e

Retrieved from "http://en.wikipedia.org/wiki/Martinka"
Categories: Entertainment companies of the United States | Magic organizations | Companies established in 1877 | Companies based in New York City | Magic (illusion) stubs