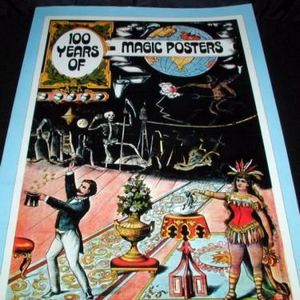 100 Years Of Magic Posters
Putnam Pub Group (1976)
In Collection


#4328
10*
Conjuring
Magic tricks - Biography, Magic tricks - Posters
Paperback 0448122847
United States of America 
English
Charles R. Reynolds: 100 Years Of Magic Posters
©1976 Charles R. Reynold; Putnam Pub Group
Paperback, 112 pages
ISBN-13: 9780448122847
ISBN-10: 0448122847

Description

First published over 39 years ago, this out of print book by Charles and Regina Reynolds is highly sought after by collectors. This is a large format (11″ x 16″) book filled with 96 full color and black and white poster reproductions of magicians over the past 100 years. Each poster has a very nice explanation about the history of the poster as well as a brief biography of the magician. The Hermanns, Kellar, The Davenports, Houdini, Blackstone, Thurston, Germain, Soo, Leon, Kassner, Nicola, Downs, Dante, Houdin, LeRoy, and on up to the more modern magicians such as Henning, Mark Wilson, Randi, etc. The full color posters are beautiful when framed but I'm not sure you would want to cut up this valuable out of print book.

LoC Classification
GV1543.O53 1976
Dewey
793.8/092/2
Edition
[2d ed.]
No. of Pages
112

Read It
No
Location
Magic Library (Home) Shelf S
Condition
Good
Owner
Bryan-Keith Taylor