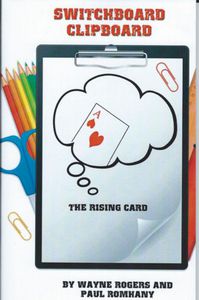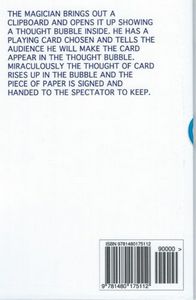 Switchboard Clipboard
Paul Romhany (2013)
In Collection


#4364
10*
Conjuring
Magic tricks
softbound 9 781480 175112
USA 
English
Rohmany, Paul: Switchboard Clipboard
©2013, Paul Rohmany
Paperback, 53 pages Dimensions: 5 x 0.2 x 8 inches

From Wayne Rogers comes this amazing routine. A clipboard folder is brought out and a card is chosen. The performer shows one page on the clipboard with a picture of a thought bubble on it. Visually the thought of card rises up in the thought bubble on the picture. The magician then signs the piece of paper and hands it to the spectator to keep.


In this version of a Rising Card in picture the re-set only takes seconds. This is perfect for trade shows, private parties and those jobs where you don't have the time for much resetting between performances.

This book is a step by step instruction on how to make up this amazing effect with items you can buy anywhere.

NOTE: The e-book version of this routine includes VIDEO files with original instructions by Wayne Rogers as well as Paul Romhany step by step video on how to make one up - this is included ONLY in the e-version. To get this version click INSTANT DOWNLOADS.

Read It
No
Location
Magic Library (Home) Shelf T
Condition
Mint
Owner
Bryan-Keith Taylor
Romhany is one of the most prolific and original thinking magicians today. His books and products are all taken from over 25 years of professional experience. He is also editor of VANISH - International Magic Magazine.