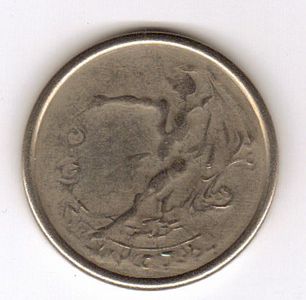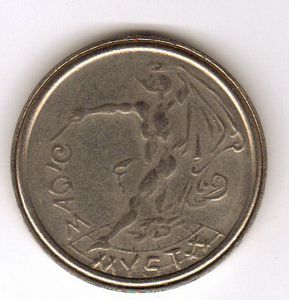 MYSTO MAGIC -- MT260.000
In Collection


#536
10*
Conjuring
Magic coin / token
Token / Coin 
MYSTO MAGIC -- MT260.000

LOCATION: Uknown
DATE: Unknown
OBV. Same as MT-259
REV: Same
COMPOSITION: Two hollow steel shells joined together, R2, V2; AL, R4, V3, 30-S

Information From:
Magicians' Tokens And Related Items
An Illustrated check-list with estimates of values and rarities.
by F. William Kuethe, Jr.
TAMS Journal, Volume 18, Number 5, October 1978, (Part Two)

Read It
No
Location
Magic Library (Home)
Condition
Very Fine
Owner
Bryan-Keith Taylor
Mysto Magic Company started by A. C. Gilbert and John Petrie in 1909. The company would later become the A. C. Gilbert Company. Most magicians born at the beginning of 1900s remember the first Mysto Magic Set they received as a kid, sparking their interest in magic.


Title: "Mysto Magic", MT-260, U.S.A....
Description/ Condition: This single Magic Token is Complete & Intact, as issued...
This example is 1 of 300 made....It looks to have seen limited Usage, if at all.
Also shows minor discoloration, but no wear.German Silver- comprised of 2 hollow sheels joined.
Mysto Magic Palming coin.


"The Magician Who Despises Magical Literature has Ceased to Keep in Step with His Profession",
1937- by Dr. A.M. Wilson, then Editor of Sphynx Magazine...