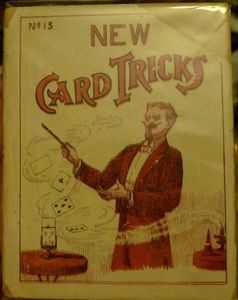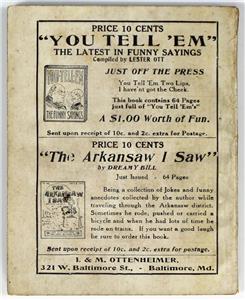 New Card Tricks - No.13
L&M Ottenheimer (1913)
In Collection


#4608
10*
Conjuring
Magic tricks
booklet 
USA 
eng
Author Unknown: New Card Tricks
©1913 L&M Ottenheimer
booklet, 64 pages

New Card Tricks No. 13, I. M. Ottenheimer 1913 Magicians, Conjurors, Gamblers

By the Most Celebrated Conjurors, Magicians, Professional Card Manipulators & Gamblers. Arranged for Home Amusements and Special Entertainments. Simplified and Arranged So That Anyone Can Perform the Most Mystifying Tricks
Interesting advertising on back and inside for "The Arkansaw I Saw" by Dreamy Bill a newly released 10 cent book.
Softcover book published by I. & M. Oppenheimer 1913. Pocket sized paperback book.

This book is in fair condition. worn, creasing, edge tears, soiling. Pages are good, browned, cover right top corner missing. Tightly bound and complete. No markings or other signs of previous ownership.


Book measures 4-1/8" by 5-1/8". Page count is 58 plus several pages of ads.

Read It
No
Location
Home Magic Library
Condition
Very Fine
Owner
Bryan-Keith Taylor