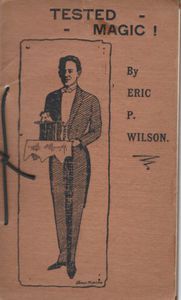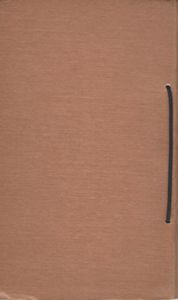 Tested Magic
Eric P. Wilson (1923)
In Collection


#4677
10*
Conjuring
Magic tricks
Softcover 
USA 
eng
Wilson, Eric P.: Tested Magic!
©1923 Eric P. Wilson, London
Softcover, string-bound, 49 pages T

Comments: Illustrated by James Morgan

Contents:

6 Preface

7 A Useful Opening Item: a small table produced from a newspaper
11 Ladies and Gentlemen: gag item where sleeve rolls itself up
13 Bow Wow: vanishing dog (puppet) in hat
16 Voila!: a sheet of paper rolls itself up into a tube
20 A New Idea in Rag Pictures: an easier apparatus
22 A Self-Contained Rising and Falling Ball: a ball rises on command up a ribbon
27 ? ? ?
27 - No. l A Subtle (?) Vanish: vanishing thumb gag
28 - ,,2. "O'ER": a jug almost falls to the floor
28 - ,,3. Cover: a mis-directed torn and restored paper
30 The Glass Through Hat: a sleight of hand method
37 For Ventriloquists Only: idea for two dummies with only one performer
38 - Two Tips: for the above
41 A Stump Stunt: a cricket bat and ball transposition
47 A Subtle Slate Move: for the spirit slates


------------------------------------------------------------

Tested Magic, written and published by Eric P. Wilson, 1923, London, Great Britain. Innovative magic, with detailed illustrations,. Booklet has two holes punched in each page, with same two holes in covered page. It originally had a lace through the holes. Lacing was removed by a former owner, so pages have all laid flat and no wear. Cover had small tear in top edge, repaired with acid free glue, and acid free tissue tape. I have put a loose elastic lace into the pages, as seen in the image of the cover. Pages may now be looked at carefully.

SIZE: 6 by 9 inches, 24 pages, plus light card covers.
CONDITION: MINT condition.

Read It
No
Location
Magic Library (Home) Shelf Top
Condition
Mint
Owner
Bryan-Keith Taylor
From Magicpedia, courtesy of Genii Magazine:

Eric P. Wilson was a professional performer known as The Royal Conjurer, inventor, and author. Wilson was very active in magic societies and was a contributor to magic magazines. He was President of both the Magician's Guild of London and the Surry Guild of Magicians. He also published the short lived Magician's Weekly (1925). He introduced black-light puppets, which were enjoyed by the Royal Family. In the 1930s there was considerable dispute as to the originator of the Square Circle effect. One of the contenders was Wilson with his Wunda Villa.