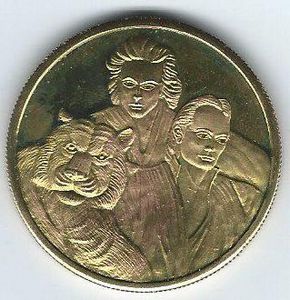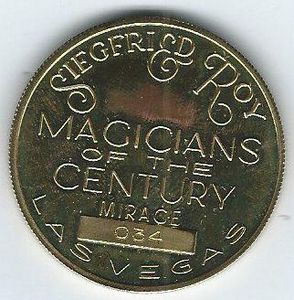 Siegfried And Roy -- MT299.101
 (1999)
In Collection


#679
10*
Conjuring
Magic coin / token
Token / Coin 
Siegfried And Roy -- MT299.101
This coin is numbered 034.

LOCATION: Las Vegas, NV
DATE: 1999
OBV: Siegfried and Roy with Tiger
REV: "Siegfried & Roy Magicians of the Century, Mirage Las Vegas"

A limited edition (3000 made!!) Siegfried & Roy collectible gold-toned token. This item was given away to guests at Siegfried & Roy's press conference when they announced the lifetime signing of their contract with the Mirage in Las Vegas, NV. Token came in black velvet box and came sealed in its own protective case and had original box from the Mirage.

Read It
No
Location
Magic Library (Home)
Condition
Very Fine
Owner
Bryan-Keith Taylor