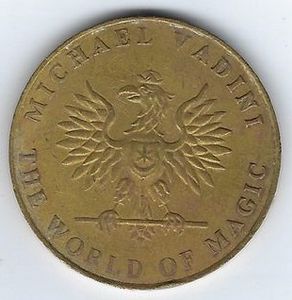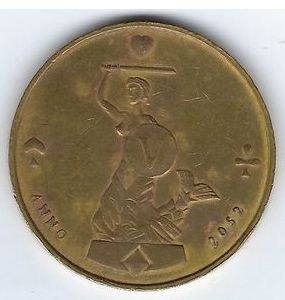 VADINI -- MT333.500
 (1998)
In Collection


#746
10*
Conjuring
Magic coin / token
Token / Coin 
VADINI (Michael Konieczny) -- MT333.500

LOCATION: Poland.
DATE: 1998
OBV. MICHAEL VADINI / EAGLE HOLDING WAND (in center) / THE WORLD OF MAGIC.
REV: Mermaid in center holding shield in left hand and a sword overhead with the righr hand. The four card suit symbols at right angles around the center. At bottom is ANNO / 2052
COMPOSITION: Br, R6 32-S

NOTE: The eagle in center is The White Eagle (Polish: Orzel Bialy) is the national coat of arms of Poland.

Read It
No
Location
Magic Library (Home)
Condition
Very Fine
Owner
Bryan-Keith Taylor