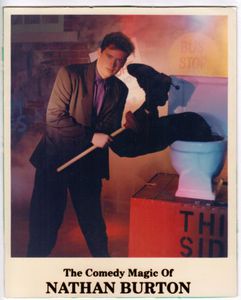 Nathan Burton
In Collection


#968
10*
Conjuring
Magician
Photograph 
Here is a excellent 8 x 10 studio promo photo of Nathan Burton.

Read It
No
Location
Magic Library (Home)
Condition
Near Mint
Owner
Bryan-Keith Taylor
Burton's Las Vegas magic show will astound you with a unique & comedic approach to magic that leaves audiences of all ages in complete amazement. "Nathan Burton Comedy Magic" appears daily at 4pm in the world-renowned Flamingo Las Vegas Showroom. Nathan's stunning magic show incorporates dazzling showgirls, whimsical illusions, and that boyhood charming personality, which makes this fun & action packed magic show a perfect mix of sheer comedic illusion for people of all ages.