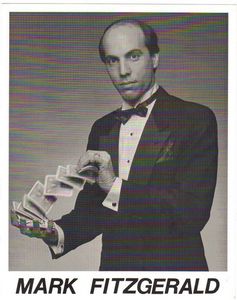 Mark Fitgerald
In Collection


#1042
10*
Conjuring
Magician
Photograph 
Mark Fitgerald

Here is a excellent 8 x 10 studio promo photo of Mark Fitgerald.

Read It
No
Location
Magic Library (Home)
Condition
Near Mint
Owner
Bryan-Keith Taylor
has been a magician for over 25 years in the Central Florida area performing 60-80 close-up events each year. I have won several awards at magic conventions for close-up and have been a member of the International Brotherhood of Magicians for over 30 years. I like to perform magic where I can interact and entertain guests with amazing sleight of hand magic.

You will hear laughter and applause as your guests are treated to their own 5- 7 minute show. My close-up magic includes cards, coins, rubber bands and other parlor magic effects. I present a relaxed and confortable style of magic that enhances the ability to perform for all types of clients. The versatility and expericence that I bring to each performance allows me to customize my talents to any event.