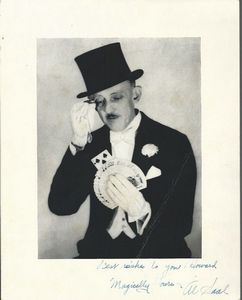 Al Saal
In Collection


#1204
10*
Conjuring
Magician
Photograph 
Magician Al Saal signed photograph-In top hat with card fancirca 1950s-v.FINE-

An 8 by 10 inch photo of Magician Al Saal it top hat, white tie, with a card fan. Autographed on bottom right:

"Best wishes to you Howard
Magically Yours -- Al Saal"

DATE: Circa 1950s
SIZE: 8 by 10 inches.
COND: Bend in lower right as seen in scanned image. All in otherwise very Fine, almost MINT condition.

Extras
Autographed, Inscribed

Read It
No
Location
Magic Library (Home)
Condition
Very Fine
Owner
Bryan-Keith Taylor
From Magicpedia, courtesy of Genii Magazine:

Al Saal (1891-1962) was an undertaker in Toledo, Ohio, and one of the star performers at early International Brotherhood of Magicians conventions. He was one of the first magicians to do a full-length manipulation act with lighted cigarettes. Saal gave his first show when he was eighteen years old and later learned shadowgraphy from Theodore Bamberg (Okito). Dressed in a Spanish costume and wearing a turned-up mustache, he performed card and cigarette manipulations. He was one of the first to use fluorescent paint on playing cards, combining black art with card manipulations, gaining the title of "The Man With The Lights". He was the organizer and the first secretary of the Toledo Magicians Club and Territorial Representative in the Toledo area for the I.B.M. A close friend with W. W. Durbin, Saal eventually retired from performing to become a funeral director in Toledo