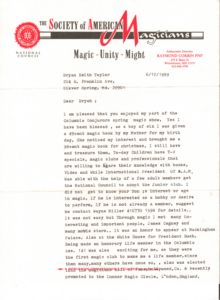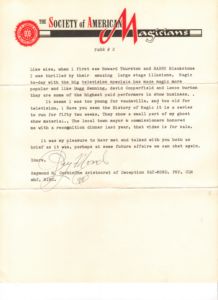 Raymond M. Corbin, The Aristocrat of Deception RAY-MOND. PNP, CLM, mhf, MIMC. - Letter
 (1999)
In Collection


#1289
10*
Conjuring
Ephemera, Memorbilia
Memorbilia, Ephemera 
Letter with a Raymond M. Corbin, The Aristocrat of Deception RAY-MOND. PNP, CLM, mhf, MIMC. signature

Read It
No
Location
Magic Library (Home)
Condition
Mint
Owner
Bryan-Keith Taylor
Ray-Mond

From MagicPedia
(Redirected from Raymond M. Corbin)

Ray-Mond
Born John Henry Corbin September 29, 1916
Medford (near Westminster), Maryland
Died July 04, 2003 Jacksonville, Florida


Ray-Mond (Raymond Monroe Corbin) began a professional performer as a teenager with Dr. Miles medicine show.

By 18 he was working as a mentalist-mindreader act as "Rajah Ramo". At the age of 22, he was performing stage magic in Vaudeville. Toured Europe as the magician with the "Yankee Doodlers" Ninth Air Force entertainment team in World War II. [1]

Opened his Ray-Mond's Studio of Magic in Westminster, Maryland in around 1946.

In late 1940s, he started touring with his illusion show and then later as a ghost show with his assistant wife Doris Mae Corbin (whom he had married in 1944). [2]

He founder the Ray-Mond Assembly S.A.M. in Westminster, Maryland, was one of the organizing founders of the Society of Young Magicians and served as the National SAM President (1984-85). He was a Silver Star member of the Inner Magic Circle, London, England and a member of the Order of Merlin Excalibur in the International Brotherhood of Magicians. He wrote articles for New Tops and Legerdemain. He was also elected into the Society of American Magicians Hall of Fame.[3]




Awards
•1965 - MAES Best Effect.
Books
•The Giant Illustrated Book of Magic Tricks (1981).
Retrieved from "http://geniimagazine.com/magicpedia/Ray-Mond"