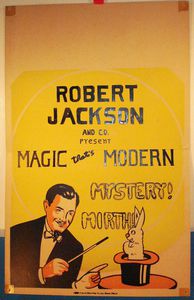 Robert Jackson & Co., Stock Window Card / Magic Poster - 14" X 22"
In Collection


#1363
10*
Magic
Magic Poster
Poster 
USA 
eng
Stock Window Card-Robert Jackson & Co-circa 1940s/50s-Central Show Printing-

This is a Stock Window Card with a yellow background. Printed image on bottom is a magician with a wand, and a rabbit in a top hat. Card was printed by "Central Show Pntg. Co., Mason City, Ia.". Hand lettered in black is text:
"ROBERT JACKSON AND CO. Present
MAGIC that's MODERN
MYSTERY! MIRTH!"

Blank space on top could be used for date and place of show by adding a temporary banner.

Robert Jackson as a young man, in the late 1940s, and early 1950s, he aspired to be a professional magician. This was one of the posters he used to promote his show.

DATE: Circa 1940s/50s
SIZE: 14 by 22 inches.
COND: Minor use and age marks. Pin holes, with clear tape reinforcing squares, in each corner. Has been folded with center horizontal crease. All in otherwise very Fine condition.

Read It
No
Location
Magic Library (Home)
Condition
Good
Owner
Bryan-Keith Taylor