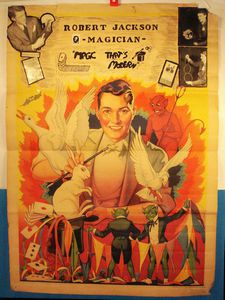 Robert Jackson & Co., Stock Window Card / Magic Poster - 20" X 28"
In Collection


#1364
10*
Magic
Magic Poster
Poster 
USA 
eng
Stock Magic Poster-Robert Jackson & Co-circa 1940s/50s-Eire Litho Co

This is a Stock Magic Poster, used by young magician Robert Jackson, circa 1940s/50s. Stock poster was done by the Eire Litho and Printing Company. Color image is of a young magician wtih rabbit, done, goose, and a group green imps. Stenciled on top in the blank ares is "ROBERT JACKSON - MAGICIAN - "MAGIC THAT.S MODERN" ". He pasted photos of himself on the top left and right corners, with spring flowers, linking rings, a fan of cards and an Abbott Wooden silver painted table.

As a young man, in the late 1940s, and early 1950s, he aspired to be a professional magician. This was one of the posters he used to promote his show.

DATE: Circa 1940s/50s
SIZE: 20 by 28 inches.

COND: Many use, age marks, & small holes. Pin holes in each corner. Has been folded with three horizontal folds. Some splits at the end of some folds, now closed with archival tissue taps. It shows how a young magician in the 1940s advertised his shows.

Read It
No
Location
Magic Library (Home)
Condition
Good
Owner
Bryan-Keith Taylor