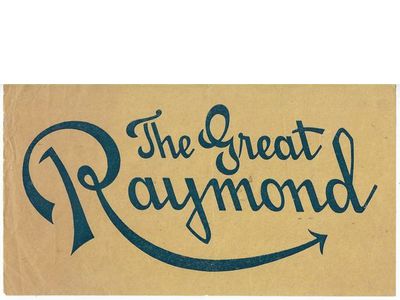 Original VINTAGE Magician The Great Raymond Banner-Logo-ca.1920s - original 6" x 11" Banner / poster
In Collection


#1418
10*
Magic
Magic Poster
Poster 
USA 
eng
Original VINTAGE Magician The Great Raymond Banner-Logo-ca.1920s

Paper banner, with the same logo text, that could be used to promote his appearances, probably to paste on theater, billboards, walls, etc. Banner is 6 by 11 inches.

DATE: Circa 1920s/30s

SIZE: As listed above.

COND: Minor use and age marks, here and there. All in otherwise very Fine condition. Please view the attached image to see the quality of this fine item.

Read It
No
Location
Magic Library (Home)
Condition
Mint
Owner
Bryan-Keith Taylor
From Magicpedia, courtesy of Genii Magazine:

Maurice Francois Raymond (1877-1948) toured the world as The Great Raymond. He began performing as a young man in the United States, but achieved success first in England. Raymond played in the Vaudeville circuits and in 1910 he made a tour of Australia, spending considerable time in the Far East. He also visited Japan, China, Manila and Hawaii. One act that Raymond was known for was his "Mytempsicosis — fastest trunk escape in the world", performed with his wife, Lipzka.He was sponsored into the S.A.M. by Houdini in 1921.