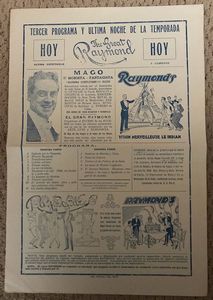 The Great Raymond Magic Poster - 12 1/8" X 17 1/2"
 (1929)
In Collection


#1419
10*
Magic
Magic Poster
Poster 
USA 
eng
The Great Raymond Poster-ca 1929-Indian Teepee Illusion-So. or Cent. America-

This is a poster for The Great Raymond, for a show either in South America or Central America. No specific theatre of or country is listed on the poster. Text is all in Spanish, with program listing of two parts of his show. Top left has his photo. Top right has drawing of an American Indian jumping out of a teepee, with title of illusion, "VISION MERVEILLEUSE LE INDIAN". Bottom left has drawing of him by a dentist's chair, with title over chair, "COMO DENTISTA RAPIDO". Bottom right has drawing of his illusion where an assistant has her hands locked in pillory, while Raymond drives spikes through her hands. Tiny text in bottom border, "Imp. Nacional.---Req. 506-B"".

DATE: circa 1929.
SIZE: 12 1/8 by 17 1/2 inches.
COND: Has been folded with one horizontal fold. All in otherwise very Fine, almost Mint condition.

Read It
No
Location
Magic Library (Home)
Condition
Mint
Owner
Bryan-Keith Taylor
From Magicpedia, courtesy of Genii Magazine:

Maurice Francois Raymond (1877-1948) toured the world as The Great Raymond. He began performing as a young man in the United States, but achieved success first in England. Raymond played in the Vaudeville circuits and in 1910 he made a tour of Australia, spending considerable time in the Far East. He also visited Japan, China, Manila and Hawaii. One act that Raymond was known for was his "Mytempsicosis — fastest trunk escape in the world", performed with his wife, Litzka. He was sponsored into the S.A.M. by Houdini in 1921.

Books
The Great Raymond: Entertainer of Kings, King of Entertainers by William Rauscher (1997)