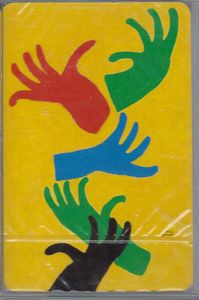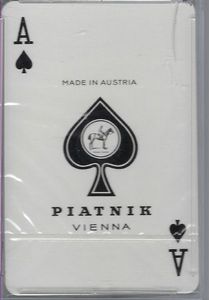 FISM Playing Cards - 2000 LISBON XXI WORLD CHAMPIONSHIPS
 (2000)
In Collection


#1477
10*
Conjuring
Ephemera, Memorbilia
Memorbilia, Ephemera 
FISM 2000 Playing Cards - Sealed Deck Lisbon

New in the original plastic case with wrapping in-tack is a highly collectable souvenir deck from the FISM convention in Lisbon

FISM
The Fédération Internationale des Sociétés Magiques (FISM) (International Federation of Magic Societies) was founded in 1948, and is one of the most respected organizations in the magic industry. It is an international body bringing together more than 97 national and international magic societies around the world, representing approximately 70,000 magicians from 49 countries.

The FISM is probably best known for conducting one of the most prestigious magic conventions in the world, the triennial "World Championships of Magic".

Read It
No
Location
Magic Library (Home)
Condition
Mint
Owner
Bryan-Keith Taylor
2000 LISBON XXI WORLD CHAMPIONSHIPS

Grand Prix Scott the Magician & Muriel The Netherlands

Manipulation 1 Kenji Minemura Japan
2 Norbert Ferré France
3 Eduardo Brazil

General Magic 1 Mask France
2 Yumi Japan
3 Roxanne Germany
3 George Saterial USA

Invention 1 Michael Ross France
2 Ariston Argentina
3 Kalle Hakkarainen Finland

Micromagic 1 Simo Aalto Finland
2 Manuel Muerte Germany
3 Gery Austria

Close-up Card 1 Henry Evans Argentina
2 Mago Migue Spain
3 Thomas Fraps&Gaston Germany
3 Gregory Wilson USA

Comedy 1 – –
2 Die Zauderer Germany
3 The Maestro USA

Stage Illusions 1 der "Hexer" Germany
2 Yunke Spain
3 Zauberteam Flick-Flack Germany

Mentalism 1 – –
2 Luis Boyano & Isabella Spain
3 Nicolai Friedrich Germany