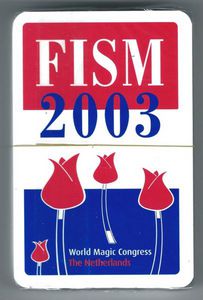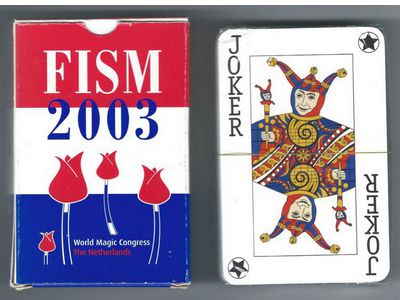 FISM Playing Cards - 2003 DEN HAAG XXII WORLD CHAMPIONSHIPS
 (2003)
In Collection


#1625
10*
Conjuring
Ephemera, Memorbilia
Memorbilia, Ephemera 
FISM Playing Cards - Sealed Deck 2003 The Netherlands

From the July 2003 FISM in The Netherlands, brand new deck of FISM cards. Cards have ever been opened.

FISM
The Fédération Internationale des Sociétés Magiques (FISM) (International Federation of Magic Societies) was founded in 1948, and is one of the most respected organizations in the magic industry. It is an international body bringing together more than 97 national and international magic societies around the world, representing approximately 70,000 magicians from 49 countries.

The FISM is probably best known for conducting one of the most prestigious magic conventions in the world, the triennial "World Championships of Magic".

Read It
No
Location
Magic Library (Home)
Condition
Mint
Owner
Bryan-Keith Taylor

2003 DEN HAAG XXII WORLD CHAMPIONSHIPS

Grand Prix Stage Norbert Ferré France

Grand Prix Close-up Jason Latimer USA

Manipulation 1 Norbert Ferré France
2 Eun Gyeol Lee Republic of Korea
3 Kenji Minemura Japan

General Magic 1 Pat Perry & Archibald Switzerland
2 Simon Pierro Germany
3 Danny Cole USA
3 Mirco Callaci Argentina

Invention 1 Jason Latimer USA
2 Jan Ditgen Germany
3 Arsene Lupin Poland

Micromagic 1 Jason Latimer USA
2 Nicholas Einhorn England
2 Shawn Farquhar Canada
3 Ferenc Galambos Hungary

Close-up Card 1 MagoMigue (Miguel Puga) Spain
2 Greg Wilson USA
2 Inaki Argentina
3 Etienne Pradier France

Comedy 1 The Great Nardini Scotland

Parlour Magic 1 Die Zauderer Germany
2 Ken Bardowicks Germany
2 Chris Joker Germany
3 Robert Jägerhorn Finland

Stage Illusions 1 – –
2 Prince of Illusion The Netherlands
3 Dr. Marrax Germany

Mentalism 1 – –
2 Aaron Belgium
3 Chris Joker Germany