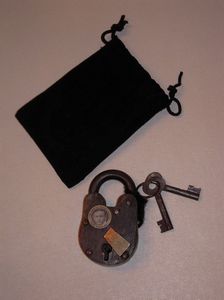 The Official Houdini Seance Padlock Souvenir Keepsake
 (2012)
In Collection


#1613
10*
Conjuring
Ephemera, Memorbilia
Memorbilia, Ephemera 
The Official Houdini Seance Padlock Souvenir Keepsake

Harry Houdini performed in Fort Worth both in 1916 and 1923... and once again in 2012. The Official Sid Radner Houdini Seance was held on October 31, 2012 at the magnificent Masonic Temple in Fort Worth Texas. There were 165 persons that attended. The evening began with Master of Ceremonies Ash Adams, who set the tone with his enthusiastic description of what the night ahead may behold. Next came historian John Cox who amazed everyone with his slide and lecture presentation. Bill Radner followed, showing some great archival footage of his father, Sid Radner, who himself intimately describes some lock secrets. The audience then enjoyed the escape acts of Jamie Salinas and Shel Higgens. The entertainment segment then closed with the showing of Houdini's voice film clip montage put together by Tom Interval. We all needed a brief intermission. With everyone back in their seats and the room lights darkened, Seance Medium Scott Wells made his dramatic stage entrance. He quickly brought the attendees under his guiding and foreboding presence. In the background, faint melancholy organ music played while Scott tried desperately to persuade Harry Houdini to make his return to earthly form known. Some say they saw a pamphlet on the table move while others say they witnessed a chair slide across the stage. Alas, Houdini did not manifest himself...or did he?

All attendees received a souvenir program and a special Houdini Seance keepsake -

This buy it now is for the 2012 Official Houdini Padlock Souvenir Keepsake. Houdini Seance Padlock: working metal 3 inch padlock with 2 keys, affixed with The Official Houdini Seance Fort Worth logo. Enclosed in small black velvetine draw-string bag. Keyhole cover slides to conceal slot. A fantastic keepsake.

Original Publication Year
2012

Read It
No
Location
Magic Library (Home)
Condition
Mint
Owner
Bryan-Keith Taylor