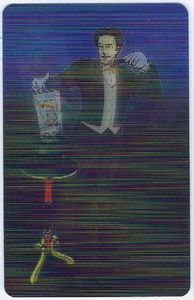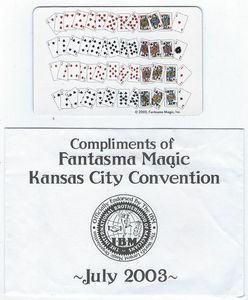 Flicker Card from Fantasma Magic
 (2003)
In Collection


#1614
10*
Conjuring
Ephemera, Memorbilia
Memorbilia, Ephemera 
Flicker Card-Queen of Hearts rises from magician's hat - 2003

ITEM: This is a , given out at the Kansas City IBM convention in 2003.

FRONT: A deck cards face up and spread out so that all can be seen.
BACK: Color photo of a magician with his top hat on his table. This is an optical flicker card. When you move the card back and forth, the magician gestures with his wand, and the Queen of Hearts rises up out of the hat.

SIZE: 2 1/4 by 3 1/2 inches.

COND: All is in otherwise very Fine, almost Mint condition.

Read It
No
Location
Magic Library (Home)
Condition
Near Mint
Owner
Bryan-Keith Taylor