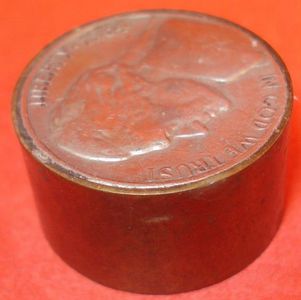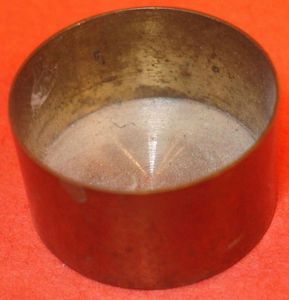 Brass Coin Box for stack of nickels vanish or through table
 (1964)
In Collection


#1815
10*
Conjuring
Tricks
Trick 
Brass Coin Box for stack of nickels vanish or through table-v.fine

Brass Coin Box for stack of nickels . Show box empty. Fill it with US nickels that end up flush to the top. Put it on the table. People can see the top nickel of the stack. Cover it for a moment with your hand. When you remove your hand, the box is seen to be empty. Your other hand that is under the table now smacks the bottom of the table and the loose nickels are now making a noise as he shakes them. Hand comes out from under the table and shows the nickels. Gimmicked nickel on the box is a 1964 Jefferson Nickel.

DATE: 1964
SIZE: 7/8 inches in diameter, 7/16 inches in height.
CONDITION: Brass has some spotting. In otherwise very Fine, almost Mint condition.

Read It
No
Location
Magic Library (Home)
Condition
Near Mint
Owner
Bryan-Keith Taylor