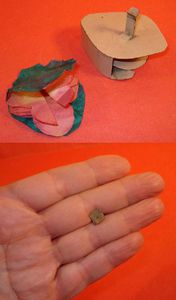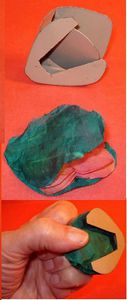 Spring Loaded Metal Gimmick-Produce single spring flowers from your hand
In Collection


#1638
10*
Conjuring
Tricks
Trick 
Spring Loaded Metal Gimmick-Produce single spring flowers from your hand-v.FINE

Spring Loaded Metal Gimmick used to produce single spring flowers from your hand. Holder has spring loaded panel inside the metal holder. You fill this with paper and cloth spring flowers, not attached to each other, and no strings. One side of holder has a finger clip so the holder can be held between to fingers, with holder hidden on back of hand. Bend your fingers in so thumb can slide out a single spring flower. This may be awkward, depending on the size of your hand. Another way to use it would be to hold it inside your hand as seen in the second set of images. Hand will appear flat. When you want a spring flower, slide your thumb over the opening in the gimmick and a single flower will slide out, opening at your fingertips. The internal spring inside the gimmick keeps pushing the remaining flowers to the front so you can slide them with your thumb. There was one older flower in the gimmick. You will have to supply the rest.

DATE: Unknown-Could be anywhere in the 1900s
SIZE: 2 3/4 by 2 1/4 by 7/8 inches.
CONDITION: Paint on outer services has minor marks. This is in otherwise Very Fine condition.

Read It
No
Location
Magic Library (Home)
Condition
Near Mint
Owner
Bryan-Keith Taylor