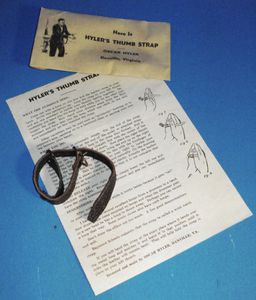 Hyler's Thumb Strap - Escape device in leather like Siberian Chain
In Collection


#1640
10*
Conjuring
Tricks
Trick 
Hyler's Thumb Strap-Escape device in leather like Siberian Chain Esc.-v.FINE--

This is Hyler's Thumb Strap, produced by Oscar Hyler, Danville, Virgina. It is an escape device in leather like the Siberian Chain Escape.
Come out with a hoop on one arm and the leather strap in your hand. Have the spectator to buckle your thumbs into the strap as tightly as possible. Immediately you hand him the hoop while you let someone else inspect the strap and see that your still very tightly strapped in. Now stand some distance away and have the spectator toss you the hoop which you catch on one arm and immediately have him inspect the strap again. Other variations may be used like accidentally "hooking" onto someones arm, catching onto the back of a chair or hooking your hands in between the microphone stand.


DATE: Circa 1960s/70s

SIZE: Envelope is 3 by 5 1/2 inches.

COND: Instructions and envelope have some minor wear. Strap is in otherwise Very Fine, almost Mint condition.

Read It
No
Location
Magic Library (Home)
Condition
Near Mint
Owner
Bryan-Keith Taylor